Over the last 23 years, The Trevor Project has become the world's leading organization responding to the crisis of LGBTQ youth suicide. We exist at the intersection of youth culture, the LGBTQ community, and mental health. As the world we live in evolves and changes, and as more people learn about the urgent need for our life-saving programs, our organization is also rapidly growing. It is at this moment that we have reached an inflection point and an opportunity to refresh The Trevor Project brand identity for the first time in over a decade.
In 1998, The Trevor Project was founded to make sure that young people struggling with their identities would always have someone to speak to. Since then, we have grown from a 24/7 phone lifeline reaching a few thousand youth per year, to a preeminent resource for LGBTQ youth in crisis – reaching over 200,000 crisis contacts in 2020 and trailblazing in realms like research, education, advocacy, and technology to create a groundswell of support for LGBTQ youth.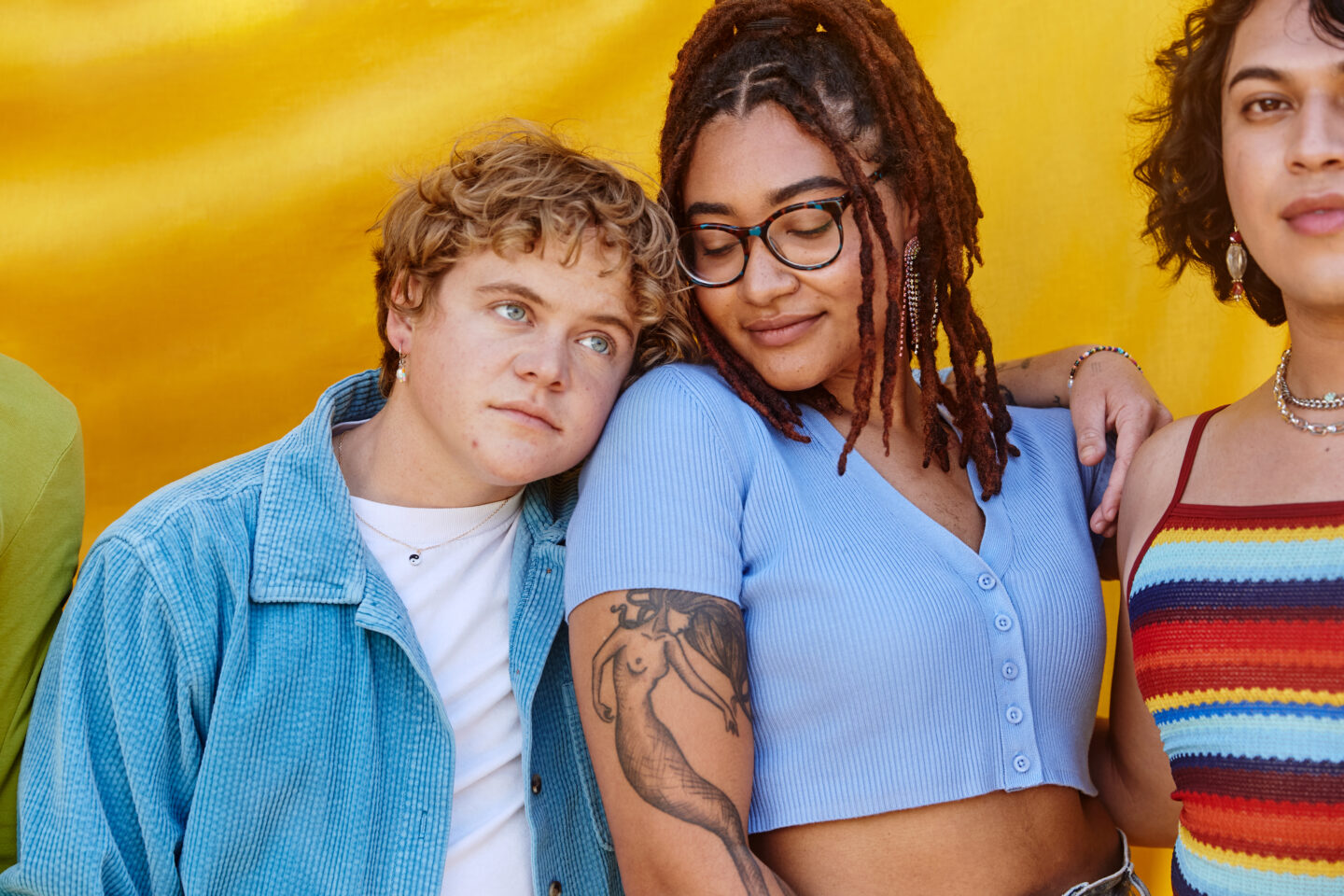 Today, we remain determined in our pursuit to live in a world where every LGBTQ young person can see a bright future for themselves and feel accepted for who they are. With this newest iteration of our brand, we aim to connect with LGBTQ youth more deeply and offer an improved experience to ensure young people can easily access our life-saving services whenever they need them.
To best understand how to achieve our mission, we partnered with LGBTQ youth, volunteers, and allies – buttressed by rigorous qualitative and quantitative insights – to inform the evolution of our identity.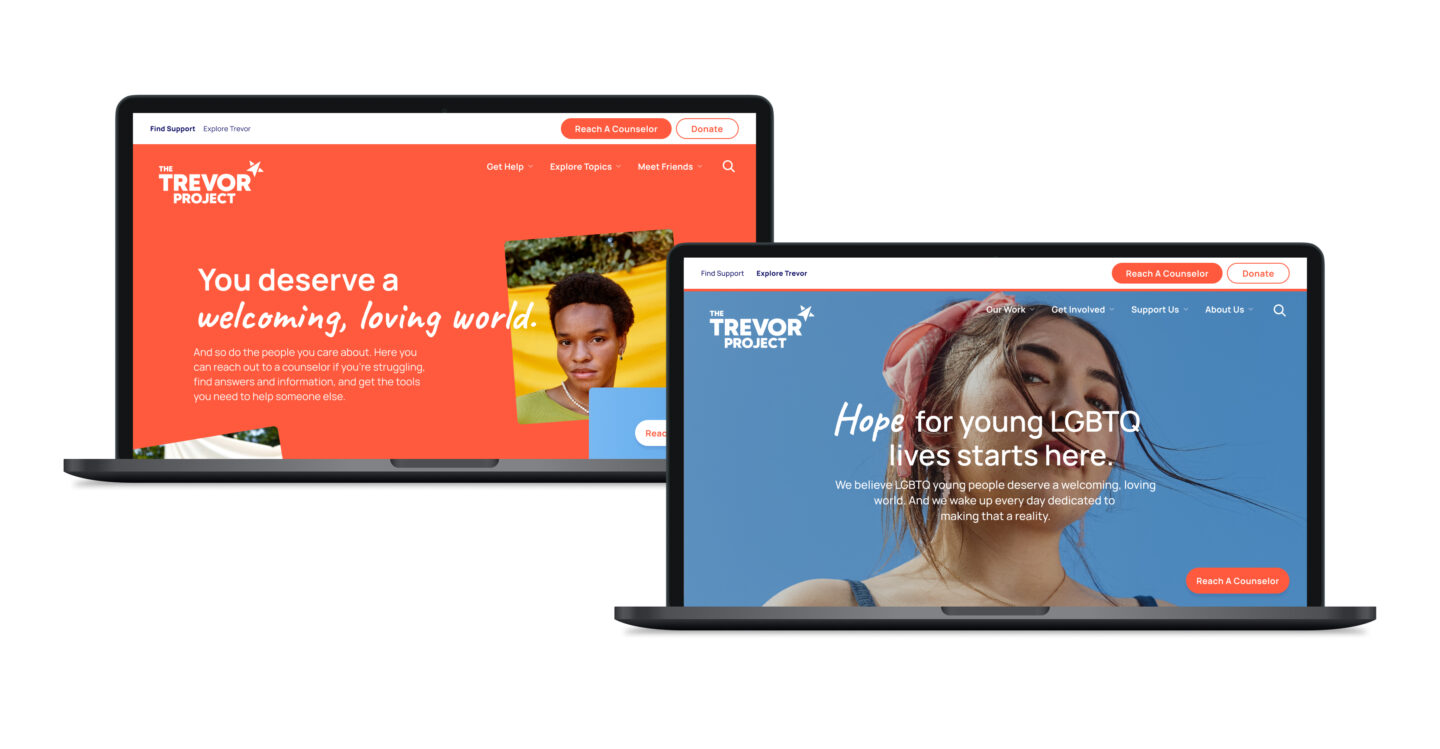 I am excited to highlight the following updates to The Trevor Project's brand identity:
We created new key website features and optimized flow to better support LGBTQ youth in crisis. These features include a persistent "Reach A Counselor" button on any given page and a "Quick Exit" feature so that anyone visiting our site can seamlessly move away from it if needed. Through our research and testing, we identified the need for quick access to our Crisis Services and a destination that feels safe and informative for young people in crisis. We also more clearly distinguish the areas where LGBTQ young people can go to get help and explore resources from sections of the website that allow the public to "Explore Trevor," creating a better user experience when navigating pages and helping users get to desired destinations faster.
The authentic voices and perspectives of the LGBTQ community will continue to be inextricably woven into the fabric of The Trevor Project brand. As an example, we worked with queer photographer, Devyn Galindo, who helped us document the LGBTQ youth community in an authentic and candid way to show real people doing real things on our website, social media and resources. The vivid illustrations showcased throughout the site are the work of queer Guatemalan-Slovak artist Ludi Leiva, who integrated Trevor's new color palette into her designs while remaining authentic to the brand's identity and messaging.
We evolved the familiar star in our logo to instill a message of hope. Now, the star alludes to a compass that helps LGBTQ youth navigate uncharted waters, intentionally pointing forward and upward.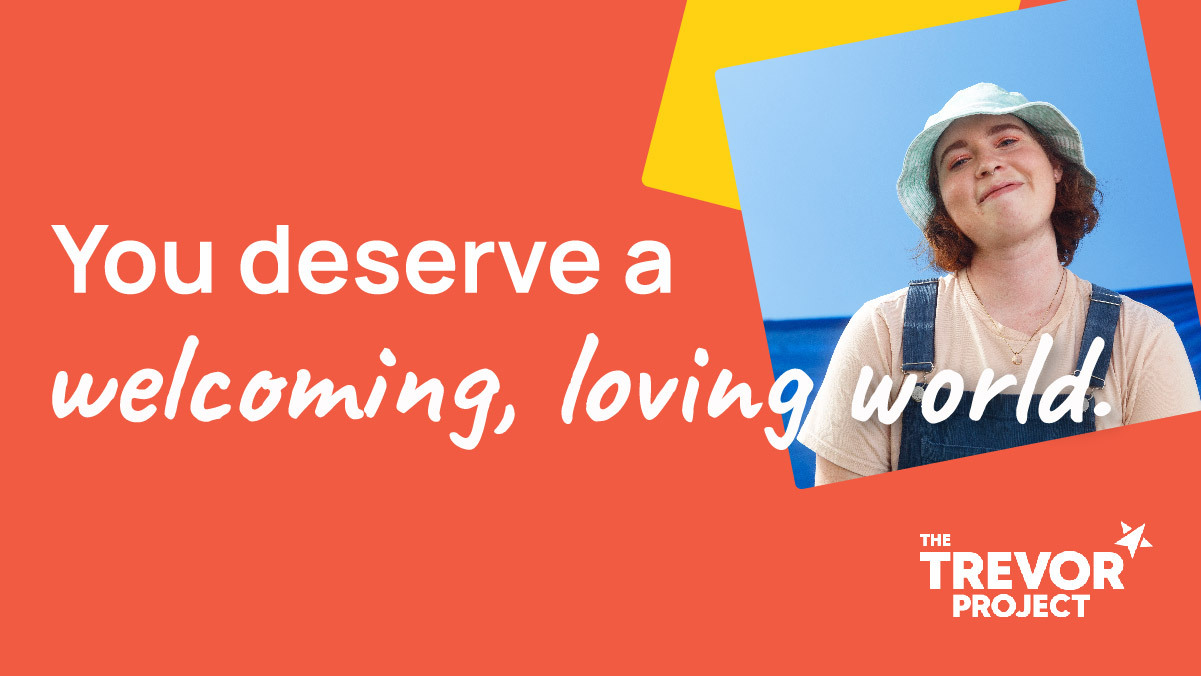 The evolution of The Trevor Project brand identity would not be possible without the input, guidance, and vision of a wide range of supporters across the community. With this growth, we believe our brand is an authentic expression of what The Trevor Project is and strives to be in order to reach the more than 1.8 million LGBTQ youth in the U.S. who seriously consider suicide each year.
While we celebrate this evolution and growth, we know there is an enormous amount of work ahead. We welcome you to continue to build this movement with us as we look to the future and continue to work tirelessly to save young LGBTQ lives.
Warmly,
Amit Paley
CEO and Executive Director