The Trevor Project has been saving young LGBTQ lives for more than 22 years – and Abercrombie & Fitch has been a part of our mission to end LGBTQ youth suicide for more than 10 of them. Together, we've evolved our once Pride-month-focused partnership to visibly support LGBTQ youth all year-round, and our collaboration has been a two-way street in a variety of ways: engaging diverse talent and influencers, cause marketing, Pride marches, fundraising, and more.
Like any good partnership, our strength is in true collaboration – A&F recognizes Trevor's expertise in serving the diverse populations within the LGBTQ community, and for years we've worked together to reflect the rich diversity of human experiences in A&F's brand and marketing. In fact, A&F's Fierce cast has transformed over the years to be its most diverse ever – including gender identity, sexual orientation, race/ethnicity, body diversity, and ability – a reflection of A&F's consumers, their brand affinities, and the LGBTQ youth who use The Trevor Project's crisis services. It's no wonder why more than half of LGBTQ youth said in a survey that brands that support the LGBTQ community positively impact how they feel about being LGBTQ.
To shed light on what we've been able to accomplish together, we spoke to Gabby Royal (she/her), Head of Global Diversity & Inclusion, Abercrombie & Fitch.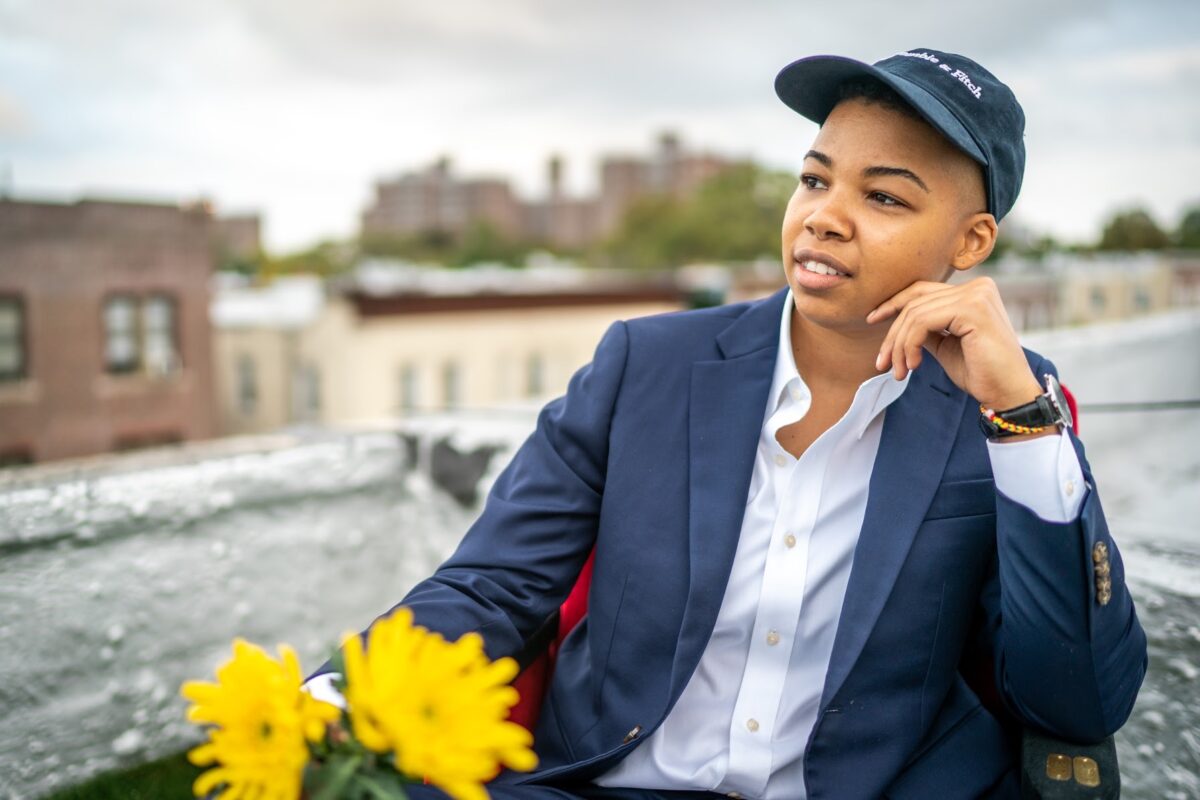 ---
Why did A&F decide to partner with the Trevor Project?
Trevor does such important work that is literally saving lives. We're both champions of the LGBTQIA+ community, the brave act of living authentically, and are incredibly passionate about mental health support, so our shared values and passions continue to be a natural and perfect intersect. I know those shared values were the impetus of our partnership when it began 10 years ago, but beyond that, the partnership has lasted so long because there is always more work to do and we continue to work together to develop new ways to raise awareness for the cause.
How has our partnership helped A&F become a better brand?
I think any time you're introduced to somebody new and they become a regular part of your life, you begin to see the world through their eyes, in a way. You begin noticing things you hadn't noticed before. You pick up on nuances you'd been unconscious to in the past. And those alterations to your perspective and consciousness ultimately influence your process.
The same thing works with brands, I think. I've been in meetings where somebody will say, "What would The Trevor Project think about X?" Or "How might The Trevor Project depict Y?" Our partnership has energized us to lean further into our purpose and be more vocal in expressing our values, but it's also invited us to think more creatively at times and even push the longstanding boundaries of who and what A&F is as a brand and how that manifests in the myriad of ways that we show up.
How has our partnership changed your perspective, personally or professionally?
Our partnership has impacted my perspective on the fashion industry holistically – the boundaries we can push, viewing Pride as an always-on product rather than a June-only capsule, and holding ourselves accountable to be more vocal allies along the way.
Personally, as a person who is part of the LGBTQIA+ community, I'm inspired that our organizations are teaming up to promote the change we want to ignite across the fashion industry because representation matters. Visibility matters. Our voices matter. This movement is more than a t-shirt for us and we're grateful to be on this incredible journey with The Trevor Project.
How does A&F live its commitment to diversity and inclusion in-store and in its culture?
Our most valuable asset at A&F is our culture. We're committed to building a culture of belonging for all associates from all backgrounds and experiences. To best support our associates and promote always-on engagement for diversity and inclusion initiatives, we wanted to quickly formalize and launch our very first Associate Resource Groups (ARGs) at A&F. Both ARGs, Pride & BIPOC communities and allies, are associate-led and driven efforts.
ARGs are open to all associates, providing members with an opportunity to share common experiences, build new skills, create new connections, and walk more boldly towards conversations that have often felt uncomfortable…and we've tackled all of those and fostered a greater awareness about each other. Future-state, we'll roll out more ARGs to support a wide range of identities, communities, and experiences at A&F.
What do we have planned together this coming year?
I think 2021 is going to be an awesome year for The Trevor Project and A&F. 2020 is the year we launched our co-designed collection and I'm pretty sure there's a lot more where that came from to create a more inclusive and accessible product. Every year of our partnership has yielded bigger and better things than the last, and 2021 will be no different. I'm personally excited to see it all come to life!
Anything else you'd like to add?
I work at A&F because fashion and diversity keep me up most nights. As a Black, masculine presenting, lesbian cisgender woman, I went through most of my life not seeing myself reflected in major retail brands.
Back in the day, it was traumatic as a young person to go shopping because my gender expression and presentation was pretty fluid. The world wasn't as accepting. I've learned that it's a balance and retailers have a responsibility to their customers to show up for them in the right way. It's more than a hashtag trend or putting a rainbow on a t-shirt.
Where inclusion and fashion meet, you find personal style can be the most liberating feeling in the world. It might sound like something small at first, but I work in this industry because I know firsthand that having your identity affirmed authentically can save lives and brands that take representation seriously are the brands that will be remembered.
We have an incredible responsibility to push boundaries in our industry to create space for all of our communities, not just some of them. We're at a pretty incredible period of transformation – these are movements, not just moments.
We're grateful for The Trevor Project and where we'll go on this journey together.
---
A&F has been a true partner to The Trevor Project, and believes in its mission to end suicide among LGBTQ young people. Their growing contributions speak to that: in 2018 they donated $280K; in 2019 they donated over $750K; and we have continued to expand our impact together in 2020. Their yearly donations, which are a combination of consumer-driven fundraising at point-of-sale and direct corporate financial contributions, enables the organization to save even more young LGBTQ lives across the country.