Ludi Leiva (she/they) is a queer, Guatemalan-Slovak self-taught artist and illustrator.
Her colorful visual artwork showcases women, BIPOC folks, and the LGBTQ community in vibrant illustrations themed around narratives of healing, empowerment, and inclusion of all identities.
The Trevor Project partnered with Leiva to develop a series of illustrations that reflect our new brand refresh. Her inspirational, poignant, and dynamic graphics are featured throughout the new Trevor website, utilizing our new color palette while remaining authentic to our brand's identity and ethos.
According to The Trevor Project's National Survey on LGBTQ Youth Mental Health, LGBTQ youth find joy and strength in their lives through art and creative expression. Leiva's unique work highlights the power and importance of representation in the arts in our mission to end suicide among LGBTQ youth.
We had the opportunity to connect with Leiva and learn more about her artistic journey, how her identity and lived experiences influence her work, and why she was drawn to this project to help us visualize our new brand.
When did you start pursuing illustration and visual arts as a full-time career?

In the summer of 2020. Up until that point I had been freelancing as an illustrator while working full-time in media and things were gradually gaining momentum. Illustration opportunities had started to pick up and then the pandemic hit. A few months into that, I was laid off from my job at a media startup.
This was a huge crossroads for me, and ultimately I decided that instead of looking for another job in media, I'd dedicate my full attention to illustration and see what happened. Over a year later, I'm still illustrating full-time, so I am really grateful for how things have unfolded.
As a mixed Guatemalan-Slovak, how important is representation and diversity in your illustrations?
These things are very important to me. As a storyteller who comes from an editorial background, I am inspired by the idea of using visual works to tell stories and explore narratives, including questions of representation. In fact, a lot of my work is an exploration of identity, place, belonging.
My mixed identity has often been a source of inspiration to my work, and I find myself compelled to explore different lived experiences, inner worlds, and ways of seeing and moving through the world.
Why were you drawn to The Trevor Project's new brand refresh? What was your thought process behind creating new imagery for the organization, and how was it different from other projects that you've worked on in the past?
I've long followed and admired The Trevor Project's mission, so when I was approached to participate in this brand refresh it was exciting for me. I spent quite a while sketching out concepts in a massive sketchbook, putting all my ideas out on paper and feeling into the emotions and themes both behind The Trevor Project's mission as well as the crucial messages these images convey.
Working with the new brand color palette was also interesting as it differs from my typical colors, so it was a nice challenge. Overall, this was a unique project for me. It's the first time I've contributed in this way to a brand refresh and so I was both challenged and honored to contribute to the storytelling and am very eager to see how this new visual identity can help The Trevor Project better connect with, serve, and uplift the LGBTQ community.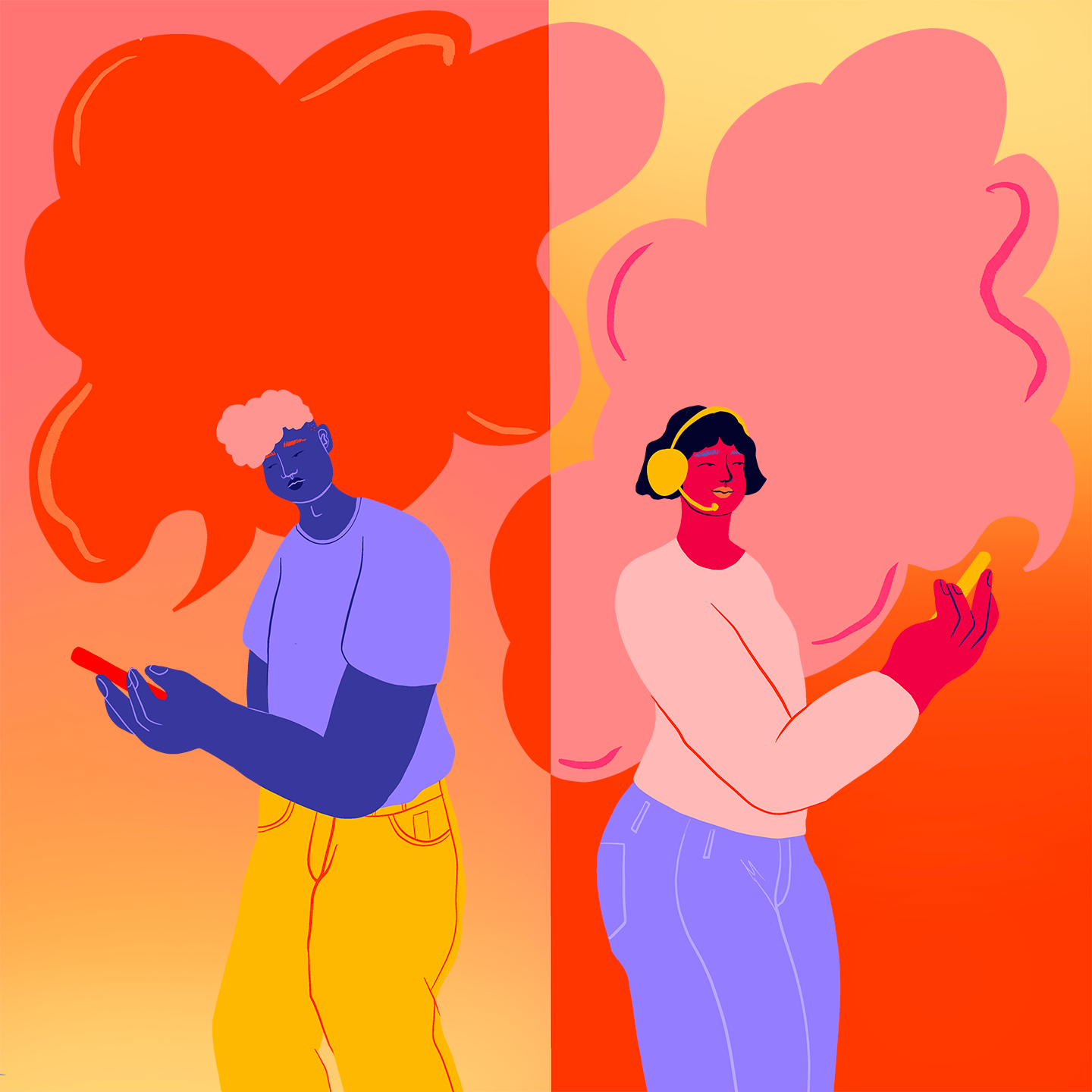 You've lived in various places around the world from the U.S. to Scandinavia—does your physical location play a role in channeling your creativity?
Absolutely. I've always moved around and it has a major influence on my work. Changing my surroundings and exposing myself to different places, cultures, and ways of living breathes new life into my creative process.
I find that by taking myself out of a routine in a place where I'm comfortable and stable and putting myself in circumstances in which I have to think a bit more about what I'm doing, who I am, my context and relationship to my surroundings, it makes me feel more attuned, creative, and inquisitive, which has really helped me explore new facets of my practice.
What brings you joy in life?
In recent months I have made a conscious effort to ask myself this question and to run toward the things that are sources of joy.
I've found that it is often the little things—like slow meditative mornings where I give myself time and space to fully arrive in the day instead of rushing to immediately start working—that I'm really so grateful for. I love making slow breakfasts, savoring a cup of coffee, journaling and meditating before I start my day. It feels luxurious to give myself that space and set the tone for the day in that way.
Another thing that's brought me immense joy lately is communing with nature. It's always been a source of inspiration and relaxation for me, but this year that came into focus in a much stronger way. I started gardening for the first time and playing a role in making things grow was such a beautiful experience. I've also prioritized getting lost in forests, hiking, cooking beautiful meals with food I have grown or foraged, spending time offline—all of these things make me feel joyful and alive.
Why do you think art is such a powerful outlet for LGBTQ youth?
Art is one of the most impactful tools any marginalized group can leverage. It allows the artist to give testament, interrogate, bear witness, and weave narratives that demand attention and recognition.
In this way, LGBTQ youth creating art is a powerful tool for healing, empowerment, self-preservation, and so much more. It can inspire others, foster empathy and solidarity, build connection, and create ripple effects that can extend farther than one might ever know.
What do you hope people take away from your work?
I hope that my work will make people feel a bit lighter and like the future can be brighter. I also hope that people might come away feeling introspective and more rooted in themselves and the importance of their own lives and lived experiences as well as more connected to others and the vibrant world around them.
What advice do you have for LGBTQ youth who are discovering their artistic style?
Never forget that you have a unique way of seeing the world and expressing yourself—and that is so incredibly valuable.
I know starting and putting yourself out there can be a bit daunting. But never forget that you have something spectacular to share with the world that is so deserving of care and exploration. You can do anything you set your mind to and dedicate yourself to.
Learn more about Ludi Leiva and her work at ludileiva.com and @ludileiva on Instagram.