Last week we entered a new chapter in our history. The surprising election results have created so much uncertainty. After so many years of progress, LGBTQ people are wondering what's to come. We are all concerned for the future of our young people.
In the days following the election, calls, chats, and texts from young people have reached the highest levels we've seen in Trevor's history. They are calling us to tell us that they are frightened because:
They are worried that they will lose their rights
They are afraid to come out for fear of being rejected
They are terrified that conversion therapy will become acceptable (again)
The timing of this is also challenging, as the upcoming holidays can be difficult for LGBTQ youth who often feel all alone. In fact, winter is the busiest time of year for our emergency response volunteers. Last winter, we spent 402,300 minutes talking with young people who reached out to us for help. And this season, we're taking steps to be as prepared as possible when the phone rings.
You can help. We're participating in Giving Tuesday on November 29th, the global day dedicated to giving back. Celebrated on the Tuesday following Thanksgiving (in the U.S.) and the widely recognized shopping events Black Friday and Cyber Monday, #GivingTuesday kicks off the charitable season and is fueled by the power of social media and collaboration. By this date, we're hoping to raise $25,000 to cover 25,000 more minutes of support to manage the spike in calls, texts and chats that we expect to increase during this winter. $1 helps keep our lines going for 1 more minute. With your help this season, we can fully ensure that LGBTQ youth know they are never alone.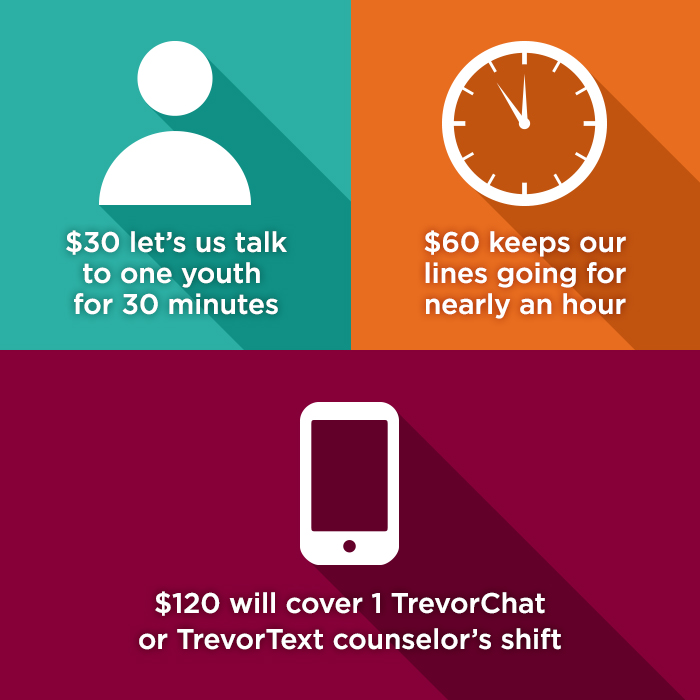 Our youth deserve every minute…
Our counselors spend nearly 5,000 total minutes a day on our crisis lines responding to youth in emergencies during the holiday season. There are many ways to get involved in #GivingTuesday:
Make a gift to this campaign
$30 lets us talk to one youth for 30 minutes
$60 keeps our lines going for nearly an hour
$120 will cover one TrevorChat or TrevorText cris counselor's shift
If you think you can raise $250 or more between now and November 29th, help us by becoming a fundraiser on our Giving Tuesday page.
Can you spare a couple minutes? Engage your community every Tuesday with stories about why you support The Trevor Project. Every Tuesday leading up to Giving Tuesday, we'll be using Twitter and the hashtag #TrevorTuesday to feature donors like you who are building a brighter future for LGBTQ youth.
This Giving Tuesday help us raise $25,000. We at The Trevor Project believe in our youth.  We fight every day to save the lives of young LGBTQ people. And we will continue to lead the way for a brighter future for our youth, no matter what! Our phones are ringing off the hooks and with your support, we will continue to answer them 24/7 and save the lives of our precious young people.
---