Dear Friends,
I'm honored to be leading The Trevor Project as the Interim Executive Director, after serving more than four years as the Deputy Executive Director.  I'm joined by the incredibly talented leadership team of Jeremy Ancalade, David Bond, Sheri Lunn, and Jack McCurley. During this tumultuous period of change in our country, I'm glad to be representing an organization that has remained a leader in helping LGBTQ youth for nearly two decades.
The demand for our services has surged since election, with the overall volume reaching the highest it's been in our history. To better understand this trend, The Trevor Project participated in promoting HRC's survey of more than 50,000 young people ages 13-18.  Results found that 70 percent of respondents have witnessed bullying, hate messages or harassment since the election, with racial bias the most common motive cited. More than a quarter of LGBTQ youth said they have been personally bullied or harassed since Election Day — compared to 14 percent of non-LGBTQ youth — with transgender young people most frequently targeted.  This confirms what we have heard first hand on our Lifeline, Chat and Text over the past two months: that youth desperately need our resources to turn to when they're feeling scared, hopeless, and alone.
Now, more than ever, we must come together to support and lift each other up.  On Inauguration Day, we partnered with Raymond Braun to release a letter of hope to young LGBTQ folks, and we raised awareness of the Trevor Project's mission as a beneficiary of the Concert For America, a star-studded Broadway benefit concert celebrating diversity where Trevor co-founder James Lecesne addressed the sold out crowd.  The following day we participated in the Women's March as an official partner.  Trevor staff and volunteers from all over the United States joined the march in Washington, DC and multiple sister cities to promote LGBTQ equality, and peacefully walk in solidarity with the intersectional community of more than 5 million people who participated in every State and across every continent.
Change is not always easy, but one thing we've learned after 18 years of suicide prevention and crisis intervention is that our community of LGBTQ people and allies is a resilient one.  The Trevor Project is inspired by the outpouring of support from organizations and individuals who are committed to standing by LGBTQ youth.  It's clear that we have so much collective support to face whatever challenges might come our way.  We're thankful to donors, volunteers, and supporters like you.  Your passion and commitment to a bright future for LGBTQ youth inspires us every day.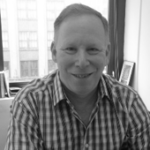 Steve Mendelsohn
Interim Executive Director, The Trevor Project