It's time to get in the game — together. The Trevor Project's mission is to end suicide among LGBTQ young people, and data suggests that inclusive sports participation can promote positive mental health outcomes among LGBTQ young people — from peer acceptance to higher self-esteem.
The reality is that LGBTQ young people face numerous barriers to accessing life-affirming sports spaces, including a dangerous new wave of bills seeking to restrict LGBTQ young athletes' ability to play as their authentic selves. According to a new poll on the impacts of social and political issues on LGBTQ young people, 65% of transgender and nonbinary young people say that recent debates around anti-trans bills have negatively impacted their mental health.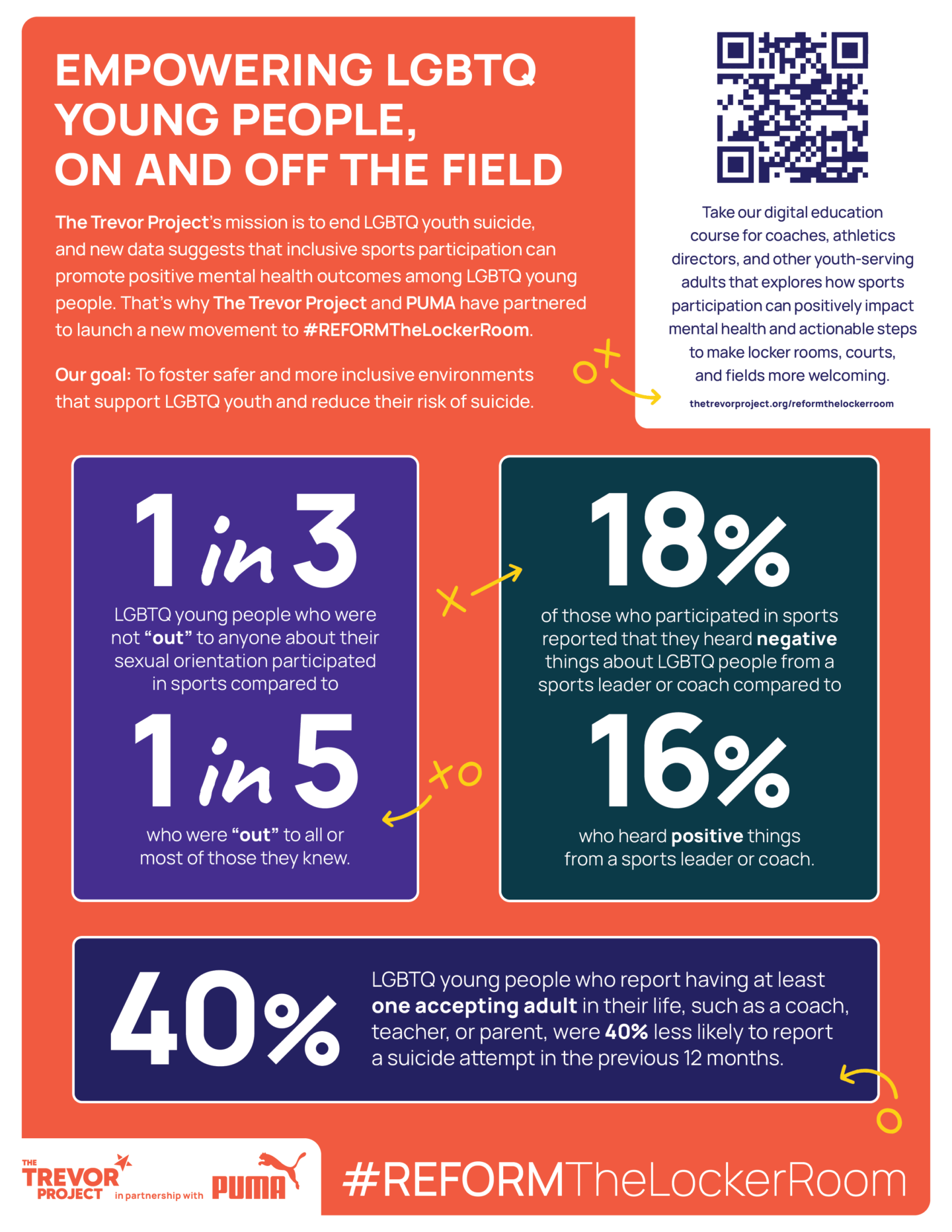 That's why The Trevor Project and PUMA have partnered to launch a new movement to #REFORMTheLockerRoom. Our goal: to foster safer and more inclusive sports environments that support LGBTQ young people and reduce their risk of suicide. This free digital education course for youth-serving adults in the athletics space aims to de-mystify LGBTQ identities and provide best practices to cultivate safe and affirming environments. The self-paced program on mental health and suicide explores how sports participation can positively impact mental health and be a powerful protective factor against suicide — because every LGBTQ athlete should have the ability to play as their authentic self.
Athlete and student-athlete coordinator Jaide Hinds-Clarke says coaches and administrators who made an effort to be inclusive changed her life: "It created space for me to feel supported, empowered, and loved. It's really important for coaches to understand the power they have to create positive change in someone's life."
Coaches and other individuals who make decisions about sports can access key resources and gain knowledge around topics including how to use respectful language, promote gender-inclusive spaces, and support equitable policies within the sports community, from how to support an athlete who has recently come out to understanding the unique experiences of transgender and nonbinary young athletes.
Take our training today at TheTrevorProject.org/reformthelockerroom/.