Summary
Most LGBTQ youth report experiencing anti-LGBTQ discrimination, which is associated with increased suicidality and mental health challenges (The Trevor Project, 2019). Sports participation can be one of many areas where LGBTQ youth experience exclusion and discrimination (Greenspan et al., 2019). However, there is little empirical research focused on LGBTQ youth athletes, particularly those who are transgender and nonbinary (TGNB), and limited implementation of supportive policy and practice recommendations to protect young LGBTQ athletes (Greenspan et al., 2019). Existing research finds that LGBTQ youth participate in sports at lower rates than their straight and cisgender peers (HRC, 2018), with LGBTQ youth athletes reporting that they feel less safe in sports environments (GLSEN, 2013; Kulick et al., 2019). Within sports environments, high levels of anti-LGBTQ harassment are reported on playing fields and in locker rooms, with low levels of intervention (Gill et al., 2010; GLSEN, 2013, Toomey et al., 2018). LGBTQ youth who are excluded from sports participation are unable to benefit from its positive effects. Additional data on characteristics of LGBTQ youth who participate in sports can assist in the development and implementation of supportive policies and practices. Using data from The Trevor Project's 2020 National Survey on LGBTQ Youth Mental Health, this brief examines sports participation among LGBTQ youth ages 13–18.
Results
Sports participation was more common among LGBTQ youth who were less "out" about their LGBTQ identity. One in three LGBTQ youth who were not "out" to anyone about their sexual orientation participated in sports compared to one in five who were "out" to all or most of those they knew. Similarly, TGNB youth who were more "out" about their gender identity were less involved in sports than those who were not "out" about their gender identity.
Regardless of outness, transgender and nonbinary youth reported significantly lower rates of sports participation than their cisgender LGBQ peers. Youth who identified as TGNB (17%) were nearly half as likely to report sports participation compared to cisgender LGBQ (27%) youth (aOR=0.56, p<.001). TGNB youth assigned female at birth and TGNB youth assigned male at birth participated at equal rates. Within the TGNB community, those who primarily identified as gender questioning reported the highest rates of participation (20%), followed by those who primarily identified as nonbinary (17%), and transgender (14%). Cisgender LGBQ girls (27%) reported participating in sports at slightly higher levels than cisgender LGBQ boys (24%).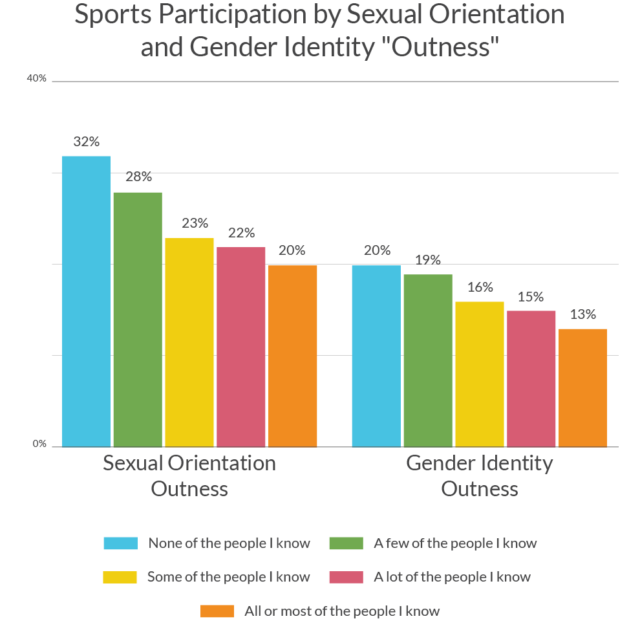 Methodology
A quantitative cross-sectional online survey was used to collect data between December 2019 and March 2020. LGBTQ youth ages 13–24 who resided in the U.S. were recruited via targeted ads on social media. The final analytic sample consisted of 40,001 LGBTQ youth. Youth who indicated being enrolled in middle school or high school (n=17,467) were asked to select which, if any, school activities they participated in from a list of fifteen categories, including sports. TGNB status was assessed by asking youth whether they identify as "transgender and/or nonbinary" following a definition of the identity. Youth were also asked to report their sex assigned at birth. Current gender identity (boy, girl, nonbinary, questioning) was used for within-group analyses among TGNB youth. Sexual orientation outness and gender identity outness were measured by asking youth to endorse how many people they were "out" to from "none of the people I know" to "most or all of the people I know."
Looking Ahead
Many LGBTQ youth may be forced to make a trade-off between participating in sports and being their authentic selves. For some youth, this may involve participating in sports while hiding their LGBTQ identity, while others who are more "out" may choose to forego sports participation altogether. This tradeoff may be particularly true for TGNB youth who report reduced rates of sports participation compared to their cisgender LGBQ peers. In addition to discrimination and safety concerns, structural discrimination in the forms of trans-exclusive policies and sex-segregated sports teams and locker rooms may also exert a strong influence on the lower rates of sports participation among TGNB youth. Our data add to a growing body of research on LGBTQ youth sports participation that suggests a need to transform sports environments into LGBTQ-affirming spaces so that no youth has to choose between being "out" and being an athlete.
As part of our mission to end LGBTQ youth suicide, The Trevor Project is committed to ensuring that youth can participate in activities that promote resilience and mental health. Our education team is developing LGBTQ ally training to prepare coaches and teammates to best support LGBTQ youth athletes. Additionally, Trevor's advocacy team works to fight discriminatory policies that limit LGBTQ youth sports participation and to advocate for the implementation of inclusive policies across the United States. Furthermore, our research team leverages internal and external data to ensure that Trevor, and other stakeholders who support LGBTQ youth, have the empirical foundation to inform evidence-based practice and policy for LGBTQ youth sports inclusion.
ReferencesGill, D. L., Morrow, R. G., Collins, K. E., Lucey, A. B., & Schultz, A. M. (2010). Perceived climate in physical activity settings. Journal of Homosexuality, 57(7), 895–913.GLSEN (2013). The Experiences of LGBT Students in School Athletics (Research Brief). New York: GLSEN.Greenspan, S. B., Griffith, C., Hayes, C. R., & Murtagh, E. F. (2019). LGBTQ+ and ally youths' school athletics perspectives: a mixed-method analysis. Journal of LGBT Youth, 16(4), 403-434.Greenspan, S. B., Griffith, C., & Murtagh, E. F. (2017). LGBTQ youths' school athletic experiences: a 40-year content analysis in nine Flagship journals. Journal of LGBT Issues in Counseling, 11(3), 190-200.HRC. (2018). Play to Win: Improving the Lives of LGBTQ Youth in Sports. Available at: https://www.hrc.org/resources/play-to-win-improving-the-lives-of-lgbtq-youth-in-sports. Accessed on May 1, 2020.Kulick, A., Wernick, L. J., Espinoza, M. A. V., Newman, T. J., & Dessel, A. B. (2019). Three strikes and you're out: culture, facilities, and participation among LGBTQ youth in sports. Sport, Education and Society, 24(9), 939-953.The Trevor Project. (2019). National Survey on LGBTQ Mental Health. New York, New York: The Trevor Project.Toomey, R. B., McGeorge, C. R., & Carlson, T. S. (2018). Athletes' perceptions of the climate for sexual and gender minority athletes and their intervention in bias. Journal for the Study of Sports and Athletes in Education, 12(2), 133-154.
For more information please contact: [email protected]